Welcome Everyone!
Happy Spring! The snow has finally stopped, and the daffodils have bloomed here in Southern NJ. Puts me in a spring time mood!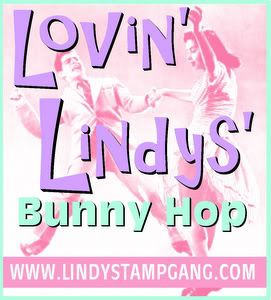 In honor of Spring, and the Lindy Stamp Gang Bunny Hop, and customer Linky Party...(yes, a wonderful contest!) I created an Easter Topiary...
I was inspired by a similar topiary I saw at my local craft store, but I wanted to improve upon it, so of course I turned to my Lindy Stamp Gang Products, in shimmering spring colors....
I purchased the topiary at my local craft store, and went to town embellishing it. I made the eggs using La Doll Air dry clay, and then colored them by painting on my Starburt Stains and Sprays in Yellow Rose of Texas, Cotton Candy Pink, and Tiffany's Blissful Blue. I also painted up some flowers in the same colors. Hot glued them on my topiary, added some crystal bling flower centers, added the ribbon, and voila! Spring hopped into our home.
The eggs are very shimmery in person. I love how easy Lindy Stamp Gang products are to use, and how versatile the colors are.
So you are in the midst of a Bunny Hop! Be sure to check out the Design Team Members blogs to see all of the wonderful Springtime creations they are making...
Oh,before you go...Lindy's is having a Linky Party April 15-22, for all of you! Each day one lucky artist who creates with Lindy Stamp Gang, and uploads will receive a little Lindy's! You can't win if you don't create! Winners will be randomly selected. Create something using your Lindy's Stamp Gang products in honor of Spring, and upload! It could be you who wins!
Thanks for hopping along with us!
Hugs,